Serviced apartments have become a preferred holiday accommodation for many travellers as they are a great alternative to hotels. With more amenities at better rates plus more privacy and freedom while still providing housekeeping, it's easy to see why they are so popular. Guests pay only for their accommodation which will be fully equipped with everything, just like home. Need more convincing? Here are some of our top reasons to stay at a serviced apartment in Durham on your next holiday.
More Space
Often hotels are no more than a room, and with more than one or two people in the space, it can feel confined and cramped. However, serviced apartments include the rooms plus living, kitchen, and dining space, making them an ideal accommodation solution for groups, particularly children. Plus, you will save money cooking in your kitchen rather than having to eat out at every meal.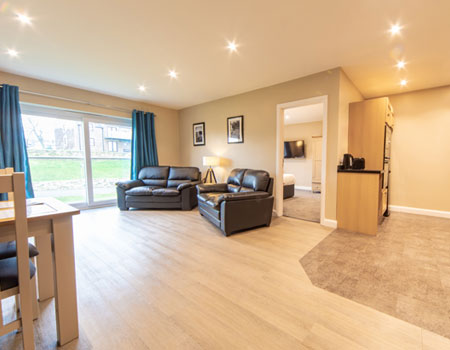 Privacy
A serviced apartment is your home away from home, so the space is entirely yours, with no communal areas including access to your space. So, relax, take off your shoes, close the door, cook what you want to eat in the kitchen or watch TV in the lounge. The entire space is yours to do what you wish.
Fully Furnished
Serviced apartments are furnished fully with everything you would find at home, so storing your luggage and belongings is easy. Plus, there's the fully equipped kitchen, bathroom, washer, dryer, and everything else you would expect waiting for you. So, there's nothing to worry about bringing – it's all included.
Cost-Effective
Serviced apartments give excellent accommodation minus the (often-hefty) hotel cost. As mentioned before, self-catering helps you save even more than eating out, which provides more money to spend on your trip. Use the money saved to shop or adventure during your time away. Serviced apartments are also charged per apartment rather than by the person, so dividing the space between more people is often a more cost-effective option than other accommodation alternatives.
Choice of Accommodation
One of the best perks about serviced accommodation is it's not only apartments – you can also pick from a variety of property options and types, from cottages, chalets, villas, cabins, and so much more. Whatever makes your ideal holiday home and accommodation, you're bound to find it in a serviced option.
A serviced apartment or cottage in Durham with Plawsworth Hall provides ample time to relax, enjoying time with loved ones. All cottages and apartments are set in the idyllic village of Plawsworth, with the stunning Durham countryside in every direction. We offer a choice of one and two bedroomed apartments and three bedroomed cottages, all fully furnished and equipped to make your stay comfortable and just like home. We also provide parking, weekly housekeeping, and on-site reception. Also for your use is the communal gardens with access to excellent walking tracks around the 40-acre property.
To book a stay simply give us a call or send an enquiry through our website. We can't wait to welcome you.